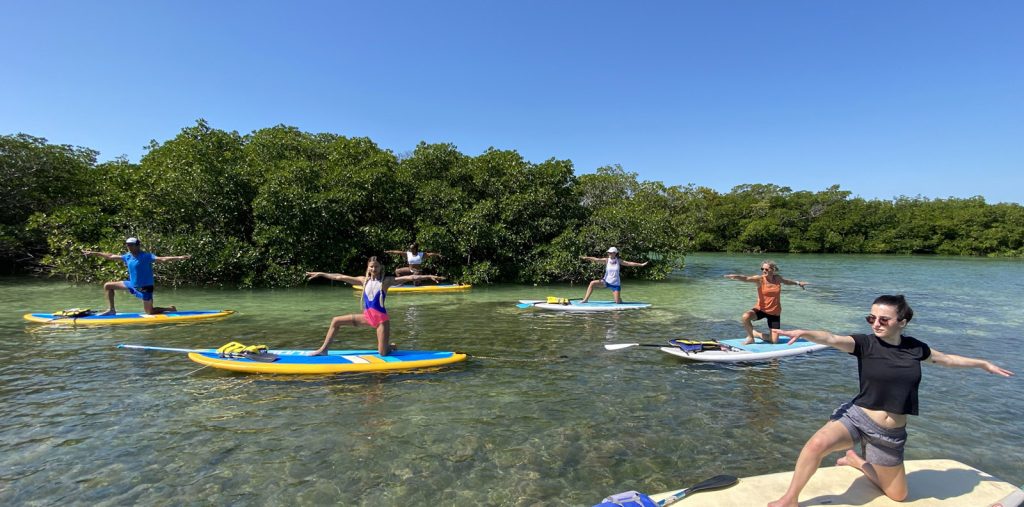 Trying Paddleboard Yoga
I'm not exactly Sporty Spice. I've dabbled at yoga for twenty years and categorize my skills as "advanced beginner" to confuse people. The idea of putting my artistry to test on a paddleboard–that's a moving object on water, by the way–seemed a rite of passage. Like a drunk spelling bee, would I embarrass myself or become a middle-aged guru? 
I was in the hands of my friend and longtime Key West yogi, Tara McCabe. Understanding, I was more "baby fawn" than "warrior," she promised to be gentle. 
A decade ago, Tara started paddleboard yoga classes in Key West, far more appealing than trendy goat yoga up north. Her manner was calm and instructive, with years of experience, like a mama duck guiding her ducklings. And that we were, ten people clutching paddle sticks like newly minted seafaring mystics about to embark on— well, none of us knew. 
Although I have lived in Key West for twenty years, water sports and I have never meshed. Noodling with my Yeti cup in the crystal keys' waters has been the scope of my activity, aside from donning the occasional snorkel. After a brief paddling tutorial, we were off. Naturally, I let everyone go ahead of me. To my surprise, unlike a newborn giraffe, I found my legs and stood tall. I could paddleboard!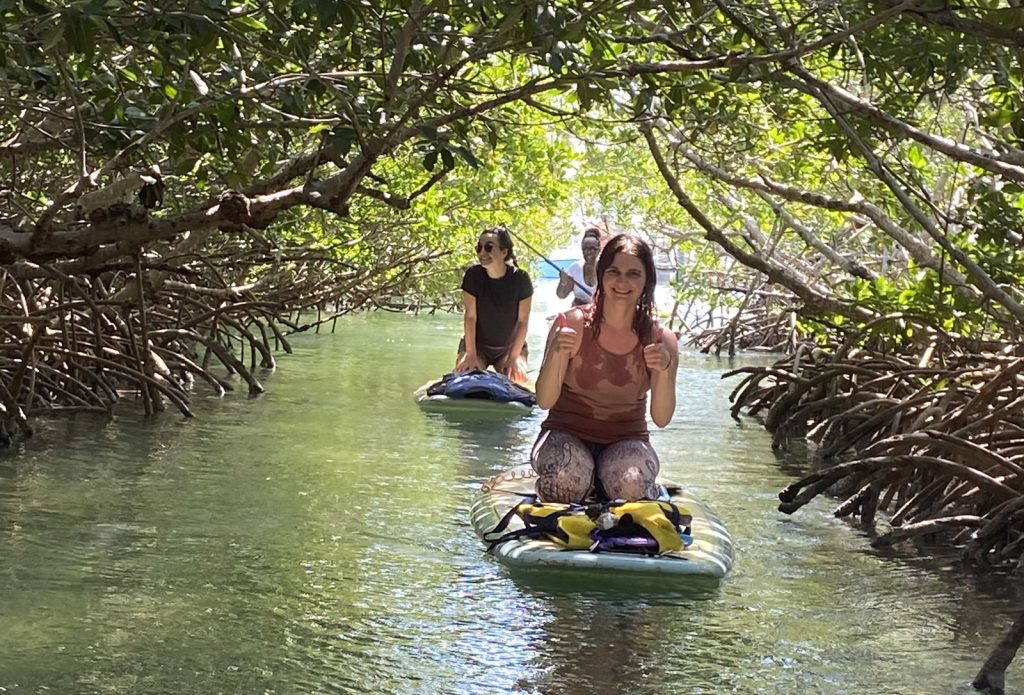 Tara led us to shallow waters nestled in the mangroves between Key West and Stock Island. The day was beautiful–but that's not a reach down here–the wind was mild and the sky cobalt. Each board had a tiny anchor. Who knew someone made paddle board anchors? Finally,  Tara managed to get all her little ducks in a row. We had passed the first test but not our last. We still had to do actual yoga.
With our feet dangled in the water, Tara asked us about our intentions. Well, duh, an ice-cold beer after because I had just mastered paddleboarding. But as we began the practice, it became clear that the universe had other intentions. Balance was a word that repeatedly came to mind as I tried to stay on a pseudo yoga mat afloat at sea. For the next hour, we did minimal poses compared to a studio class, but each required an intense focus and, well, balance. But the word expanded into so much more. I  had to find harmony between my quivering muscles in plank pose and staying on the board. By now, my yoga ADHD should have kicked in–I usually think about my next meal during Chaturanga. But between the lapping of the waves, birds flying overhead, I focused on my poses and fell in the water. It was more refreshing than humiliating, and I didn't care that I was the first one down. Somewhere between being in nature and being in my body, I found balance. Zen.

I marveled at how attentive the class had become. I certainly would not have signed up for more than a mojito on my vacation. I guess we all had intentions that day, mine per usual, misguided. To my relief, Tara led us into Shavasana, the resting "corpse pose"- a tad morbid but descriptive. On paddleboards, we looked like starfish with arms and legs swaying in the water.
Resting, I knew everyone was secretly patting themselves on the back for making it through the class. I sure was. I conquered not one but two semi skill sets without a Yeti. I will still proclaim advanced beginner but now with the cavalier addendum, been there and done that. It's about balance, after all.
Want to try Paddle Board Yoga with Captain Tara? Send us a note and we'll make arrangements.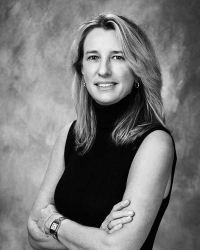 Latest posts by Hays Blinckmann
(see all)

View All Articles